A versatile and powerful performer with an EU Stage V Engine
Vilvoorde December 2019 - The all-new Komatsu WA80M-8 compact wheel loader delivers first-class operator comfort, optimum visibility, outstanding safety levels, an ergonomic interface, effortless operation, a new 40 km/h high speed option, and a bold contemporary styling for a strong distinctive visual presence. Combined with KOMTRAX, the WA80M-8 promises unbeatable customer value - whatever and wherever the job.
On construction sites, for gardening, landscaping or agricultural jobs, the Komatsu WA80M-8 is a reliable and versatile tool, with its hydraulic quick-coupler, Easy Fork kinematic and a wide range of available attachments.
The new WA80M-8 is an authentic all-rounder
"The new WA80M-8 is an authentic all-rounder," says Michael Wadsack, Product Manager at Komatsu Europe. "Compact dimensions, excellent visibility and a wide variety of options make this latest Komatsu compact wheel loader everyone's favourite little helper on the jobsite".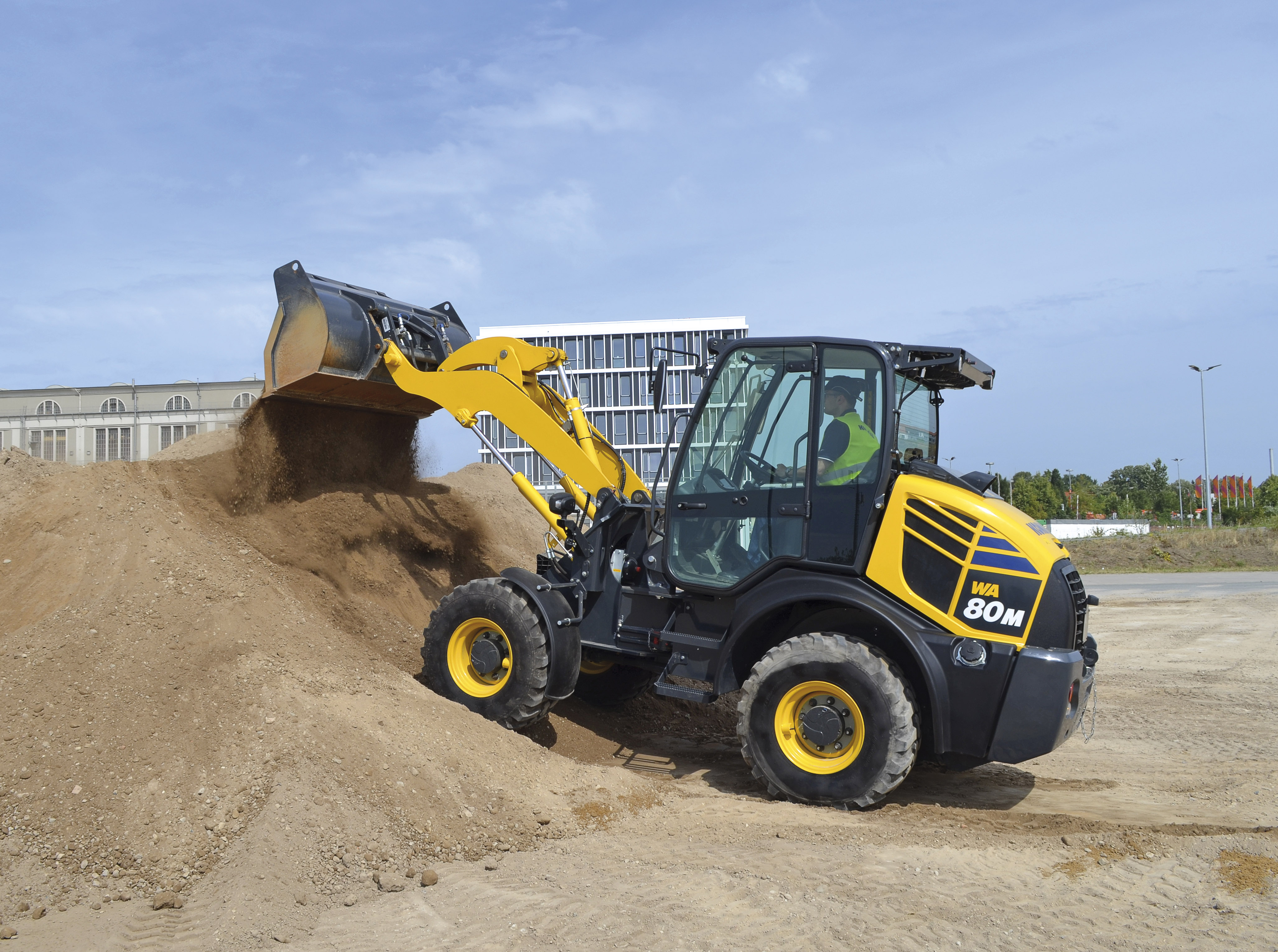 Powerful, flexible and versatile
The WA80M‐8 has an operating weight of 5,995 kg. Optimised for tough construction applications, its powerful Komatsu S4D98E-6VHA low-emission engine (53.7 kW -72 HP) complies with EU Stage V regulations. A fully automatic hydrostatic transmission sends power to all four wheels. Available options include increased travel speed, up to 40km/h.
With high rimpull, superior breakout power, high lifting and dumping height, and enough reserves for even the most difficult ground conditions, the WA80M-8 also features low fuel consumption. The operator can rely on Easy Fork kinematic to transport loads with Komatsu pallet forks parallel to the ground without readjusting the fork tines.
Reduced Operating Costs
A 6.000 hr cleaning interval typically makes the DPF maintenance-free for 10 years. Komatsu's buckets are easy to fill; they offer increased operating comfort, boost the new wheel loader's productivity and help to reduce fuel consumption.
KOMTRAX telematics offer top fleet management and support, protect the machine against misuse and guarantee maximum efficiency and uptime - and is free of charge.
Comfort & Safety
For maximum operational safety, the machine's low centre of gravity enhances stability, and its compact dimensions and new engine hood ensure exceptional all-round visibility.
The new large and multifunctional high-resolution TFT-LCD widescreen colour monitor has 15 built-in languages. Improved ergonomic controls include a PPC multi-function lever for easy operating. The optional air conditioner and Electronic Controlled Suspension System (ECSS) further promote comfort and productivity.
Easy Maintenance
All maintenance and service can be performed easily and quickly thanks to the tilting cab. The engine hood opens widely for a quick daily inspection, the electric equipment is well protected behind a maintenance cover, and the easy-to-clean wide core radiator, with an optional reversible fan, is conveniently accessible. A compartment for the battery, main switch and relays improves maintenance access to the electrical system.
WA80M-8 New Features and benefits
EU Stage V emissions compliant – Peace of mind, meet any tender requirements
DPF – Peace of mind, environmentally friendly
6000 hr DPF cleaning interval – Peace of mind, low maintenance cost
High torque engine – more power and higher torque - Increased productivity
High travel speed 40km/h as option – Increased productivity
Variable creep speed - option – control and productivity
More payload - Increased productivity
New ergonomic controls - Innovative interior design – Comfort & ease of operation
New full colour monitor – sharp, bright, 7" TFT-LCD widescreen monitor panel with 15 built-in languages. Productivity up.
Seat belt caution - Enhanced safety, status shown on large colour monitor – peace of mind.
Secondary engine stop switch - Enhanced safety feature
Lowered exhaust pipe – Improved visibility, enhanced safety – peace of mind
KOMTRAX - Ultimate equipment monitoring incl. fuel consumption for easy checking
Information in this news release is current on the date of the announcement and is subject to change without notice.
Notes:
Comparisons are to the Komatsu model WA80M-7.
KOMTRAX is a registered trademark of Komatsu Ltd.