How Japan transformed its construction industry through smart use of technology
In 2015, the Japanese government announced its i-Construction initiative. Faced with a labour shortage, the authorities decided to collaborate with advanced industry players to speed up technology adoption in the construction industry and boost productivity. Since then, the revolution has spread to thousands of jobsites.
The worldwide population is steadily rising. Everyone needs a place to live in and cities continue to expand, along with the demand for urbanisation projects. Civil engineering and the need for innovative technologies are becoming increasingly important.
In Japan, with over 30% of its workforce aged 55 or older, the civil engineering sector could face a major shortage of labour after these workers retire. And natural disasters, earthquakes and floods, will still occur, with infrastructure still needing to be repaired and upgraded.
In view of the aging population and a declining birth rate, the Japanese government is now working together with the private sector to develop and implement new construction technologies using Information and Communication Technology (ICT). Japan is committed to be the first country to prove that growth through innovation is possible, even while its population declines.
Japan is committed to be the first country to prove that growth through innovation is possible, even while its population declines.
To realize this world-leading "Super Smart Society", and to dramatically enhance the overall productivity of the Japanese construction industry, the i-Construction initiative for surveying, construction and other tasks that utilize 3D data proposes three major steps. These include the aggressive use of ICT in construction, standardisation of the specifications used and the balancing of orders throughout the year completing the picture.
Japan encourages the various players, including smaller- and medium-sized contractors with limited engineering resources, who cannot afford to implement new technologies by themselves, to come up with new and innovative ideas.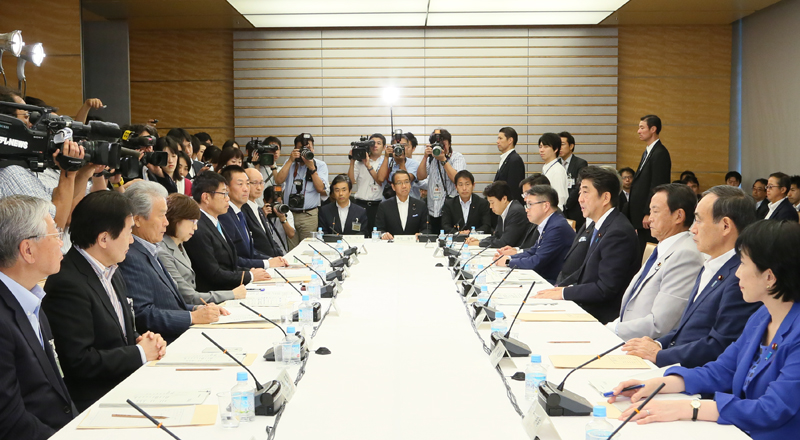 On Monday, September 12, 2016, a meeting of the "Future Investment Conference" was held with representatives from Smart Construction at the Japanese Prime Minister's Office.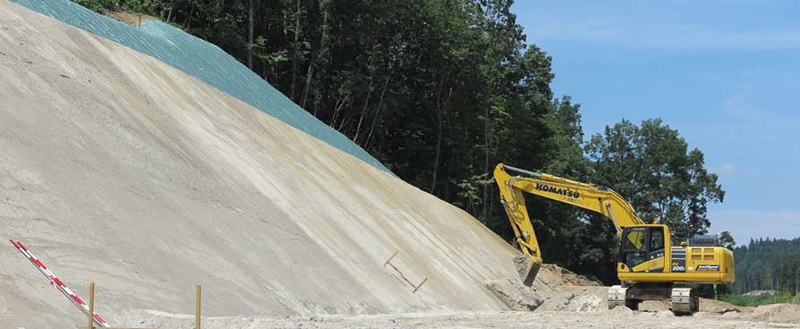 A Komatsu PC200i crawler excavator with intelligent Machine Control working in Japan
Smart Construction
Today, the government and the construction industry work as one to achieve this ICT-driven technological ideal. One of i-Construction's key players is Komatsu, one of the world's leading developers of advanced technology for the earth-moving business. With Smart Construction, born from its ever-pioneering spirit, Komatsu is already at the forefront of this digital revolution.
"Smart Construction is the digital transformation of the construction and earthmoving processes," says Richard Clement, Deputy General Manager, Solutions Business at Komatsu Europe." It utilises Internet of Things (IoT) technology to gather data, software to analyse it and to create information, and then uses that information to optimise and improve the processes for the customer. Most importantly, our Komatsu guys going with the customer to the jobsites help them to actually make that optimisation."
Smart Construction makes full use of Komatsu's Intelligent Machine Control technology and provides comprehensive project planning and logistics – for a stunning improvement in productivity. At the heart of the concept lies a central operation control system, a Cloud-based platform, that creates a flow of real-time info across the entire network. This is IoT applied to the construction industry.
All data from drones' surveys, 3D design data, project management, on-site ops, and daily inspections are continuously analysed in the cloud. Richard Clement says: "Every step in the workflow is connected, allowing smooth and instant management of the construction project, from initial planning to completion".
Progress on the work site can be monitored remotely. Precision surveys that previously required two workers, that slowly covered several hundred points per day, is done with Smart Construction in less than an hour using specialized drones. Work systems are flexible and operations easy to manage. To meet their deadlines, owners and jobsite managers can bring in younger and less experienced operators to carry out expert tasks. Jobs are done quicker and safer.

The first Smart Construction customers in Japan, even those initially reluctant due to the novelty and higher investment, were quickly convinced in view of the drastic increase in productivity and lower operational costs. Today, Smart Construction is well proven, with more and more companies adopting it and a successful deployment on over 7,000 jobsites.
Mr. Sonoda, of Shinwa Construction Co. Ltd. in Maizuru City, Kyoto Prefecture, Japan, recently testified: "With Smart Construction the job was done twice as quickly. It was very useful to see the progress of the entire site every day. I would like to introduce new technologies from now on".
Komatsu has started to introduce its Smart Construction solution to new markets, first in the United States and more recently in Europe. Through Smart Construction, and together with customers, Komatsu will continue to work to achieve the safer and high-productivity jobsites of the future.
Smart Construction is the digital transformation of the construction and earthmoving processes.
Related blogposts
The future of construction is digital - How bauma 2019 revealed the way forward for the European construction industry
"There must be a better way" - How digital technology is transforming the construction industry
Related articles
Power of Innovation – Bringing Innovation to the Worksite with Smart Construction.
How drones are helping Japan overcome a labour shortage.
Let's talk!
Want to find out more about Smart Construction? We'd love to hear from you!
Contact
Richard Clement
t: +44 1914925444
m: +44 7734684671
e: richard.clement@komatsu.eu