Meeting the challenges of the timber industry
Düsseldorf, May 2022 — Have you already come up against increased prices for wood? Perhaps it has cost you more this time to stock up on your annual wood supply for your own wood-burning stove? Or maybe you have you recently had to deal with similar challenges in your business? The increase in prices for wood reflects, in part, the steady increase in the global demand for wood goods, ongoing for several years.
Perhaps you run a business in the timber industry?
In these times of large orders and workload, and to further support you with the right fleet for your company, Komatsu proposes a wheel loader specifically geared towards timber industry operations.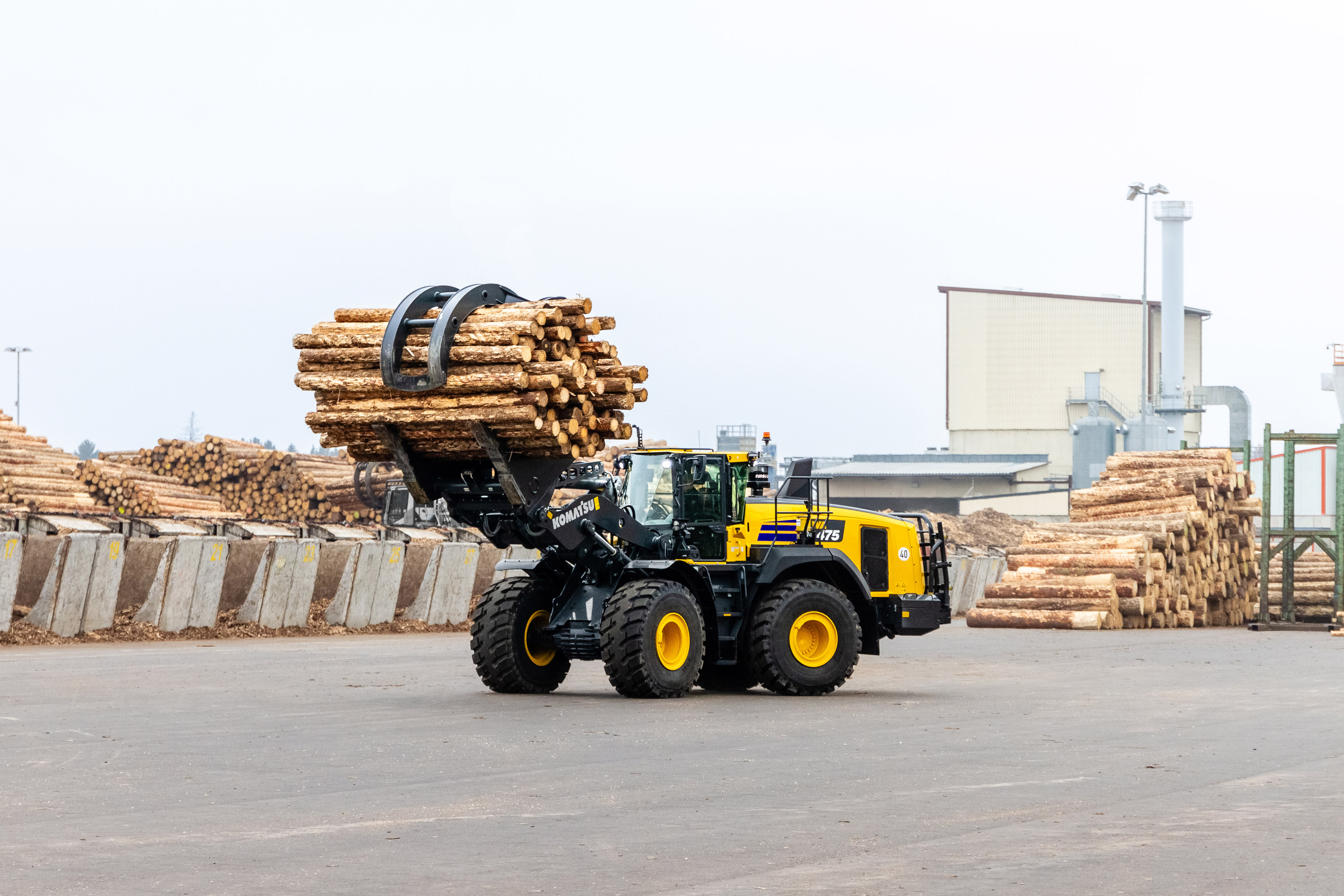 The timber industry version of the WA475-10 with the new "tool linkage" boom, used here for loading round timber.
Based on customer feedback from the past years, the WA475-10 wheel loader now offers a new "tool linkage" boom. It was developed at the Komatsu site in Hanover, Germany, where this wheel loader is also manufactured. This development of this improvement was focused on the need of customers in industrial applications for high pull-back forces and sufficient installation space for large-volume buckets. Whether for log loading, moving wood chips or sawdust, the new specification is suitable for versatile use in their operation.
If, in the past, it was tricky for you to unload logs from HGVs and work with large attachments, then this new "tool linkage" boom, with its optimised kinematics, is the solution. The tilting moment is increased by up to 39% compared to conventional Z-kinematics. This enables safe precision loading with log grapples. And if you also work with light bulk materials such as wood chips and sawdust, and therefore require large-volume buckets, then this is no longer a problem thanks to these new kinematics. The "tool linkage" kinematics tilt with the bucket, allowing maximum clearance for the bucket body. Full compatibility with common attachments via a hydraulic quick-coupler enables no-compromise usage in any existing operation.
The combination of "tool linkage" with the already familiar independent control of the WA475-10 travel drive and work equipment shows its remarkable power for easy operation in industrial applications. For example, if precision lifting of the work equipment is required while a travel gear is engaged, it is only necessary to move the control lever further out. The lifting speed is adjusted independently of the accelerator pedal. This advantage comes into its own when working with heavy attachments.
Furthermore, additional options, which turn the WA475-10 into a complete customer-specific solution, are available for the new specification. These include a rear collision guard, impact-resistant front mudguards, and a heavy-duty front protection guard. A camera system for optimum visibility with large attachments further enhances operational safety. Depending on the application, you can choose from three different rear weights. In addition, Komatsu attachments such as log grapples, high dump buckets or light material buckets, matched to the machine, are available from the factory. Further equipment variants, in the form of different joystick steering systems, premium driver's seats and LED light packages, complete the range.
If you operate or are employed in a sawmill, paper mill or pallet factory, on a CHP plant or a waste wood recycling operation, the WA475-10 with timber industry specification is the right addition to make your day-to-day work easier, more productive, and safer.
Komatsu distributors are always happy to advise and support you in choosing the right specification and configuration for your machine. You can find the branch details and further information on Komatsu wheel loaders at www.komatsu.eu.
The Komatsu WA475-10 wheel loader will be on display at bauma 2022, both in an "Aggregates" configuration on Komatsu's indoor stand (Hall C6), and, in action, on the outside demo ground (FM713/1) with its new tool linkage boom.
About Komatsu
Komatsu is an industry-leading manufacturer and supplier of equipment, technologies and services for the construction, forklift, mining, industrial and forestry markets. For over a century, Komatsu equipment and services have been used by companies worldwide to develop modern infrastructure, extract fundamental minerals, maintain forests and create technology and consumer products. The company's global service and distributor networks support customer operations, tapping into the power of data and technology to enhance safety and productivity while optimizing performance.