Recently Earthmovers magazine published an article by Author and Photojournalist David Wylie that takes an in-depth look on the delivery and launch of Komatsu's world first 112 tonnes Komatsu D475A-8 to a longstanding Komatsu customer operating in an Estonian Oil Shale surface mine industry and energy sector.
All components of the machine were shipped from Japan to Baltem, Komatsu Europe's Distributor in Estonia, and fully assembled there by a skilled team of Komatsu-trained engineers. The fully built up machine then travelled a further 225 km east, and was delivered to the customer, Enefit Kaevandused a subsidiary of Eesti Energia (Estonian Energy), at the Narva quarry next to the Russian border.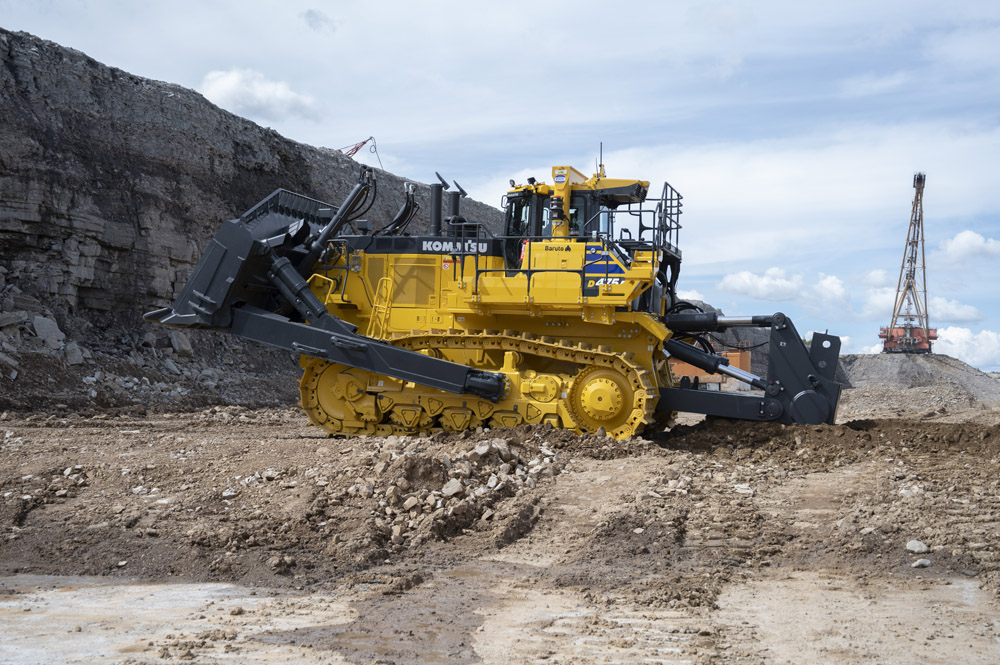 In the 1990s, with Komatsu's support, Estonia upgraded its traditional method of mining oil shale from extensive and expensive blasting to ripping, a more efficient and less expensive method.
Oil shale is a sedimentary rock formed 450 million years ago from organic substances that were the biomass of ancient lakes and seas. Estonia has almost 100 years of commercial oil shale experience and normally it takes 7 - 8 tonnes of oil shale are required to produce 1,0 tonne of shale oil.
The D475A-8 dozer is expected to work well in this application with its new undercarriage design, as the shale oil material is not very abrasive for the undercarriage. The new D475A-8 also has a EU Stage V engine, and more power in reverse, 106 hp to be exact - at 1040 hp in total – and can produce faster cycle times, as the new dozer was designed to provide high top speeds, up to 11,2 kph in forward gears to 14.3kph in reverse! The other advantage is the extra 106hp means the auto-lockup torque converter will engage sooner to save fuel, and has more grunt for reversing uphill, to start a gravity assisted downhill push for the next load, carry and dump cycle with its massive standard Semi-U blade at 27,2m³.
The D475A-8 is expected to produce lower operating costs, as it is designed to deliver the same performance in ECO mode – with equal fuel burn - as its predecessor did in Power mode, whilst improving productivity by at least 5% (when on inclines of 13°). It is also 5 to 10% more productive in P-mode.
The initial customer feedback about the new Komatsu Dozer, with 460 hours on its clock, came from production manager Oleg Ivanov. He said: "The machine has settled into the quarry operation without a hitch. We are pleased with its performance, as the new D475-8 loads and carries a full blade of material much easier than previous models and the new undercarriage design looks better balanced for more performance".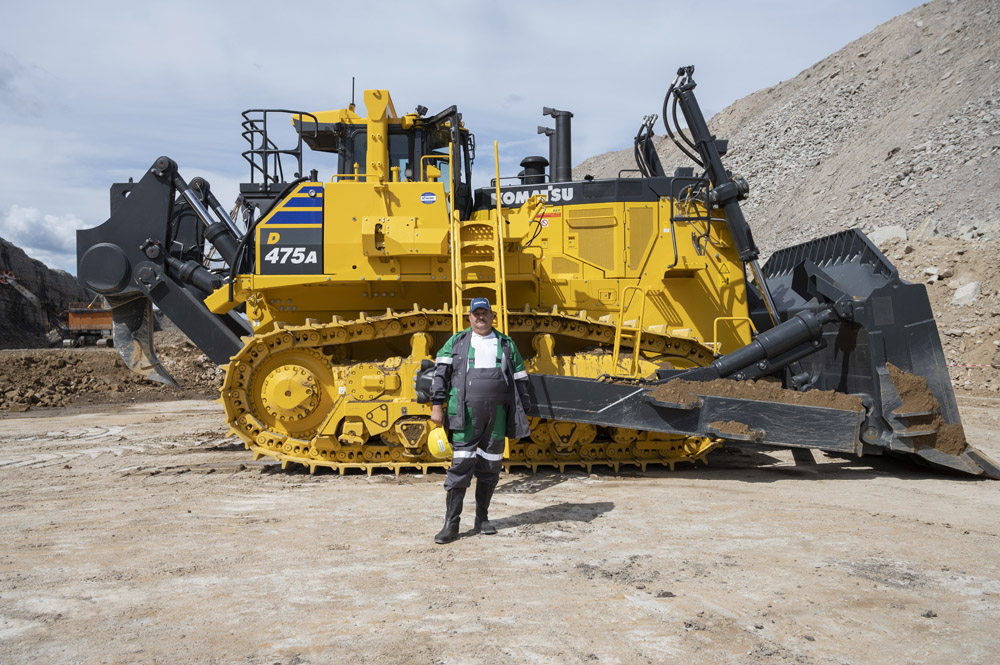 Nikolai Bakunov is the first operator of this first D475-8. He has over 20 years dozing experience, including on previous Dash 3 and Dash 5 versions of the D475A. He said: "I can immediately feel the comfort of the machine has improved and it has been getting better and better with each generation of D475." He added: "All the D475s I've operated are mechanically strong, with good reliability and I'm confident this new dozer will be the same. The new controls are easier to use, especially the ripper lever, which is very comfortable to work with. I like the additional new functions and safety features, and this new D475A-8 has the most comfortable cab of any of the other dozers at this quarry."
Please check out the full article at Earthmovers home page https://www.earthmoversmagazine.co.uk/magazine/read-all-about-it.htm